Sorry for the delay! You might have noticed that Blogger temporarily locked MoT. Apparently they were just checking that we're not a spam blog, and I don't think I helped our image by failing the 'prove you're not a bot' test when I requested to be unlocked the first time... Anyway, I got it in the end, so we're back up now and raring to bash this latest 'breed'!
I decided not to rag on poodle hybrids this week. This mix caught my eye and, frankly, I find it much more deserving of my ire, disgust etc than an -oodle/-poo. It's finally happened... The desecration of the breed closest to my heart.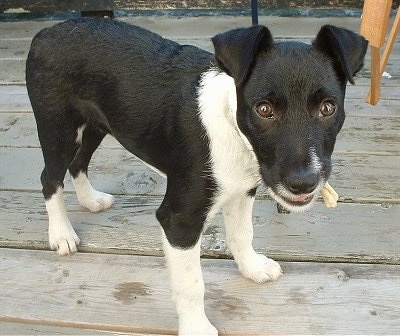 Yes, the Border Jack. Offspring of a Border collie and a Jack Russell. People are actually breeding these terrors. Together.
Intentionally
.
[deep breath]
Now, I know these dogs aren't exactly in vogue (yet), but there are quite a few floating around. I can't figure out why anybody would be breeding Jack Russell mutts when they can't even seem to get their breed straight. (Jack Russell? Parson Russell? Parson Jack Russell? Whatever. I'd be working on a breed distinction if I were a breeder and the dispute mattered to me - ie purebred Jacks and Parsons.)
So you take a pot and toss in some fun traits like 'working dog', 'easily bored' and 'not good with children'. Add a busy mind and a destructive streak. Stir well. Throw in a sprig of joint problems for flavour. Mix in some hyperactivity, and ... mmm. Smells like a super-fun family dog!
THE PROS: Not much to speak of. Really. I thought about it, and I looked around, but they really are scarce.
If I may go off on a tangent, I was once watching a mock agility competition at an annual pet convention in Toronto, with Border collies dominating the scene. After matching off the final pair (collies both), they pitted the victor against their reigning champ... A Jack Russell. And boy, did she blow away the competition! She didn't put a foot wrong - and those little legs could seriously motor. She flew through the course and finished with time to spare. I almost couldn't believe my eyes.
Now if somebody watching that competition had thought, "If I put that Border collie and that Jack Russell together, I'd have a SUPER agility dog!" ....they'd be a dumbass. Really. Don't do that. But at least they'd have a purpose. Sadly, I suspect the prowess both breeds show in agility and flyball is just a coincidence when it comes to their offspring. Still ... I guess it's a quasi-pro ... the pups might be useful agility dogs as well? ...I'm sorry, I can't do it. You don't know what you'll get with muttpuppies! They could be great but they could end up all wrong.
I'm certain that a Border Jack owner would tell me how smart their dog is. Okay. Borders and Jacks are both smart dogs, I'm sure their babies are smart too. This is a pro, of course; except how many dogs like Border collies end up in rescues because their owners can't handle them? So many people make the mistake of thinking smart = trainable. NOT TRUE! The smarter the dog, the more of a moron he thinks YOU are, and the more trouble you'll have convincing him to stay near you off-leash when there's something awesome he could be rolling in over there. Good job breeders, you just cut your target buyers in half. Now you're aiming to sell to people who know what they want in a dog and how to get it ... and unfortunately, most of them already have a more predictable breed in mind. Wish your puppies luck with the clueless people and young families they'll wind up with.
And the last - real - pro. Now listen up, because this may be the only time I ever say this. Are you listening? I don't want to have to raise my voice. Okay. Here it comes.
Hybrid vigour may work for this dog
.
I'm no scientist so don't take my word for it! But for once, we get to see two breeds who
don't share a lot of health problems in common
. Jacks have a number of eye disorders going on, whereas the big one for Borders is Collie eye anomaly, which doesn't occur in Jacks. Borders tend to suffer from hip dysplasia more than anything, but this isn't common in Jacks either. They still share epilepsy and some joint problems, and some other less common things like deafness, but I had to do some digging. Huh. Looks like ... these may be ... pretty healthy dogs.
THE CONS: Oh, boy, where to start?
Well, I mentioned how adorable the Maltipoos and Goldendoodles were. I like aesthetics, so it's worth mentioning that I think Border Jacks are pretty funny-looking. Let's just say when it comes to looks, there is a
SERIOUS
lack
of predictability.
Incidentally, the two most neurotic dogs I can think of off the top of my head are my own Border collie and my friend's Jack Russell. I'm still having trouble imagining anybody putting these two breeds together
on purpose
. You're not getting a more manageable Border, and you're not getting a less caffeinated Jack. You might even end up with something WORSE.
Sigh...
I don't even know if I can go on. Your muttpuppy may be fairly physically sound, but good luck surviving puppyhood (and onward. Border collies mature slow). That's the best I can come up with, apart from
look for something more manageable and less neurotic
. Otherwise, I think I've covered most of the cons of this breed. They're smart (bad for owners who aren't hardcore working-dog savvy), they're probably a little crazy, odds on they won't like your kids, and
they look weird
.
COULD A PUREBREED SERVE THE SAME FUNCTION?
They don't have a function. If it were agility or flyball, well, you're better off with a breed that's already solid in the field. If you want a smart dog, pick one or the other. Just stop breeding these monsters!
Because really. What did Border collies and Jacks ever do to you?